Radon
Welcome to German PHC's Radon Division! We provide radon testing and mitigation to Grinnell and surrounding areas. Keep reading to learn more!
---
What is Radon?
Radon is a cancer causing, radioactive gas. You cannot see, smell or taste radon but it may be a problem in your home. Iowa has one the highest concentration of radon levels in the United States. The Surgeon General has warned that radon is the second leading cause of lung cancer in the US. Below you can see how radon may enter your home.
---
Radon Testing
Testing your home for radon is easy and convenient. Our certified technician will place our Radalink Aircat machine in your home and it takes less than 48 hours to complete its test. Within 2 hours of our technician picking up our machine you will receive the radon test results. Any radon level under 4.0 piC/L is considered safe.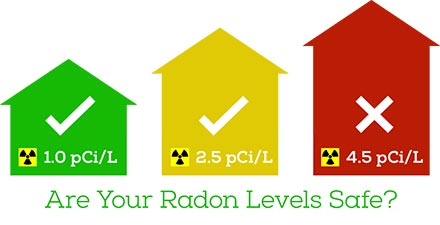 ---
Mitigation Systems
If your home has high radon levels and you decide to mitigate your home we have you covered for that as well! Our technician will meet with you for a free consultation to go over the preferred method of installing your system and exactly how the equipment works. After your mitigation system is installed German PHC guarantees that your radon levels will drop to below 4piC/L which we will perform a post test to ensure.